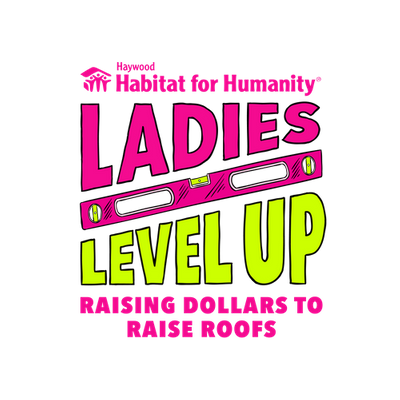 Thanks to the support of people from all over Haywood County, 105 donors have given a total of  $60,000 to build our very first Ladies Level Up home.  The funds were raised by local women, and the home will be primarily built by local women in partnership with a female homeowner selected through the normal Haywood Habitat application process. 
To participate in the building process, please visit our Women Build page for a full build schedule and more information.
Ladies Level Up is a Haywood Habitat for Humanity initiative planned by a local volunteer group of women committed to levelling the playing field for women-led families in need of affordable homes.  Women from all walks of life from our county and beyond have the opportunity to come together to make a sustainable impact in the life of someone like them – a woman – a woman that needs a hand up, not a hand out.  Ladies Level Up is an opportunity for us all to join together and show the change a committed group of citizens can make by raising the funds and then building something permanent.  We are literally raising dollars to raise a roof!
Ladies Level Up is the newest part of our Women Build program
Women Build has been a regular part of the Haywood Habitat program since 2015. Women Build's only agenda is to provide women with a way to take concrete action against poverty housing conditions that rob families of hope and potential.  Women Build challenges and teaches women volunteers how to construct decent, affordable housing.  We believe that women from all walks of life can, and should be, empowered to take action against poverty housing conditions.  Now we're taking it one step further with Ladies Level Up. 
Even though we have completed the fundraising for our first Ladies Level Up house, we know it won't be our last.  If you would like to donate to Ladies Level Up Again to support the next house, click here.