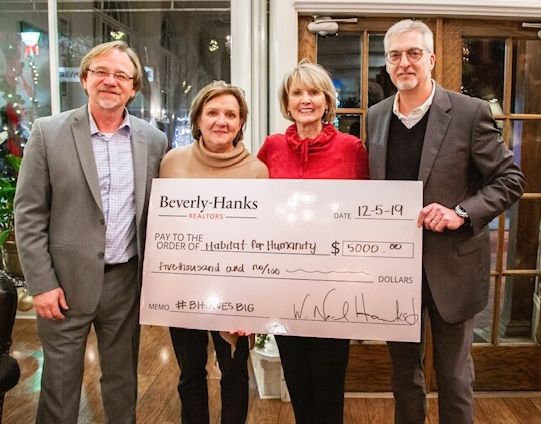 The Waynesville office of Beverly-Hanks Realtors presented a check for $5,000 to Haywood Habitat at their holiday party in December.  Under the leadership of Brian Cagle, vice president-managing broker of Beverly-Hanks' Waynesville office, the agents and employees made individual contributions matched by the Waynesville agent charity fund.  
Jamye Sheppard, Haywood Habitat executive director, said, "We are deeply grateful for your support.  You are making it possible for us to continue our work in this community by providing this donation to help fund the first home in our new neighborhood in Waynesville's Chestnut Park."  Haywood Habitat's new project is scheduled to begin in 2020 and will feature 10 affordable homes adjoining a small town park.
"Habitat for Humanity is an incredible organization that provides pathways to affordable homeownership," Cagle said.  "We are so pleased to help them with the first home in the Chestnut Park community."